Our Team
We are only seeing patients with pre-booked appointments. Please phone on 02088867266 on the first instance. We may be able to help you over the phone, otherwise we will make an appointment with you.Thank you for you cooperation and understanding.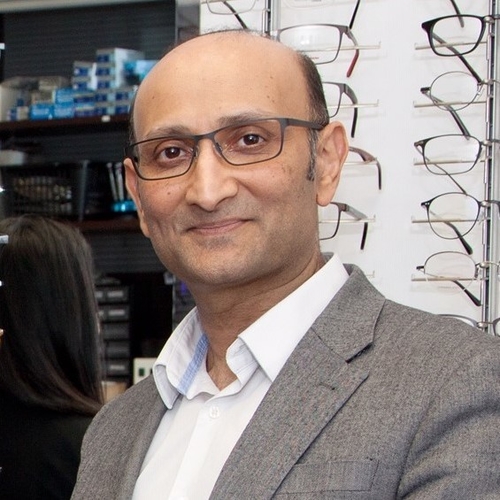 Daven Patel
Qualifications
Bsc (Hons) MCOptom
Position
Practice Owner and Principal Optometrist
Description
Daven Patel is the Principal Optometrist and practice owner,He has taken over the practice from his sister,Mrs Kamini Patel,who retired due to her passion for Philosophy and charity work.

Daven has worked in Optometry for over 25 years in various roles.

He qualified in 1990 from Cardiff University.

He began his training in a large multiple business for four years, then moved on to experience independent practices as a self-employed optometrist.

During this period, he also took on a part-time supervisory role, teaching City University optometry students.

In 1998, he took over a new franchise optical business (a well known large Optical retailer) and increased its growth successfully.

He created a direct referral route for his patients to Moorfields Eye Hospital and Whittington Hospital, to offer a faster and more efficient service.

In 2014, he was employed in a part-time role by Whittington Hospital under Glaucoma consultant Ophthalmologist to specialise in glaucoma. He was also involved in the cataract service of this hospital.

He is currently running Optitech Opticians, and is employed on a sessional basis by the Royal free NHS trust at Chase Farm Hospital in the post operative cataract service.He has been developing good connections to the local eye hospital ophthalmologists to offer his patients an efficient referral pathway.

His aim is to deliver a truly professional service in an endeavour to keep the patient at the heart of the practice.He is continuing with his mission to preserve vision for life for all his patients with his experience and latest technology at Optitech opticians.